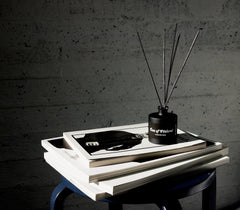 What do Tom of Finland's real men smell like?
Osmia and Finlayson have collaborated to develop three new products for Tom of Finland, for which Osmia has developed a fascinating fragrance. All products have the same name fragrance and the products are handmade at the Osmia factory in Herttoniemi.

Pasi Väistö, who was responsible for designing the fragrance, says:
"It's the characteristic and captivating scent of a real man, based on earth, hay plants and a touch of birch bark. The natural scent is relaxing and suitable as a room fragrance for all seasons. This scent, which is largely composed of essential oils, also includes a touch of patchouli and ambergris, which exude the same masculine appeal as the characters created by Tom of Finland."
Kiasma 28.4 - 29.10.2023:
Showcasing the works and life story of Tom of Finland, one of the world's best-known Finnish artists.